Venue
Vienna, the capital city of Austria, offers a wide range of historical sights and traditional culture on the one hand, but is on the other hand a very young, dynamic and modern city.
Vienna's architecture is a harmonic balance between new and old. No other European city can come up with such a long history as a melting pot for numerous European cultures. The Opera House, the Concert Halls, the Schönbrunn Palace or Saint Stephan´s Cathedral are as much enchanting as overwhelming buildings. Vienna provides an excellent public transportation service all over the city, so every monument as well as the congress venue the "Palais Niederösterreich" can be reached easily.
The congress venue, the "Palais Niederösterreich" is located in the first district, in walking distance to all majorsights of Vienna. It was originally the home of the so-called estates, the political representatives of upper classes, knights, prelates and towns. These estates were the precursors of the Lower Austrian Parliament.
The "Palais Niederösterreich", also called "Landhaus", was acquired in order to be near the reigning prince and to hold assemblies in 1513.
Precious interiors such as the Landhaus – Chapelle or the Gothic Room have been preserved from this late Gothic building.
The conference hall was built in Renaissance style and decorated in the Baroque period with colourful frescos that symbolize the glory and honour of these times.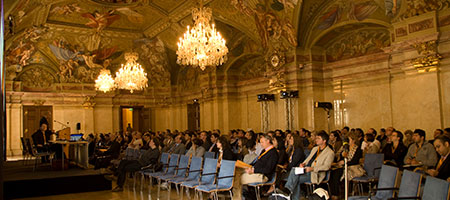 The "Landhaus" was used by the representatives of the people from Vienna and Lower Austria up to the year 1921.
The "Landhaus" has belonged to the Lower Austrian Provincial Parliament since 1922, when Lower Austria gained independence from Vienna. In 1997 the Lower Austrian Parliament moved to the new provincial capital in St. Pölten.
Between 2002 and 2004 the "Palais Niederösterreich" was renovated and restored, following the guidelines for the protection of historical monuments.
Venue Address:

Palais Niederösterreich
Altes Landhaus
Herrengasse 13 | 1010 Vienna, Austria
Phone: 0043 1 907 62 99 | Fax: 0043 1 907 62 99 - 118 26
Web: www.palais-niederoesterreich.at/